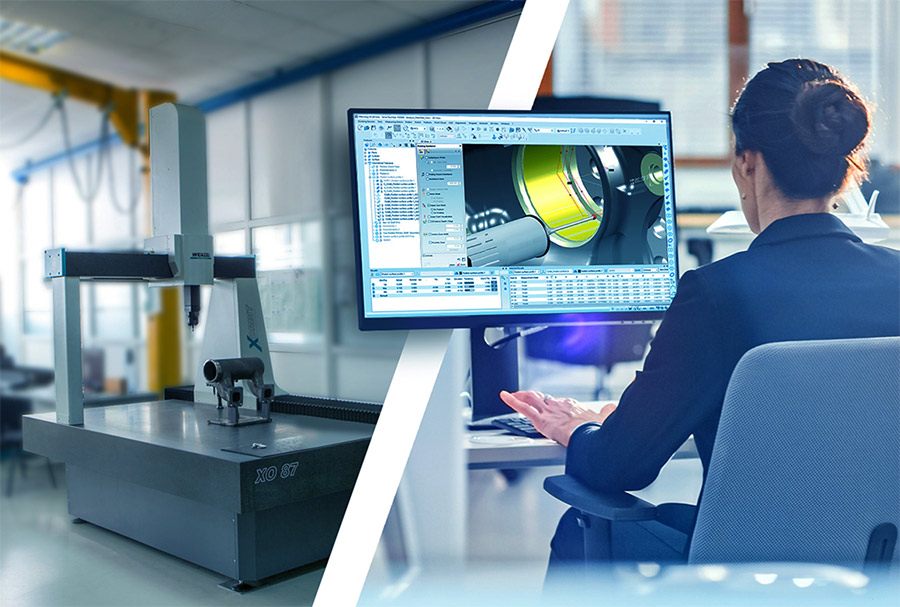 Moving into Industry 4.0 with Off-line Programming
Powerful and intuitive, Metrologic Group's Silma X4 software is an off-line programming tool that allows industrial companies to enter into Industry 4.0 thanks to different advanced simulation modules.
Perfect for high production, especially in automotive and aerospace industries, Silma X4 and its Path Planning module meet the need to simplify, streamline and optimize the inspection process. Measurement programs are creating automatically and hands-free!
Optimized Productivity and Save Programming Time with Silma X4
Based on years of programming experience, Silma X4 allows to simulate a complete measurement cycle without immobilizing the measuring system. With no downtime during the programming time, the CMM keeps performing its measuring tasks, saving considerable time and resources.
Fully integrated into the measurement process and thanks to its digital twin technology, this tool allows the user to project himself into the complete 3D measurement environment. Measuring systems behavior are simulated as in reality (e.g. kinematics of motorized heads, probe change sequence using tool changers, laser line visibility check with the camera of the optical sensor, cloud density according to sensor capability, etc.). Ensuring the detection of potential collisions during the inspection, Silma X4 offers powerful automatic avoidance capability.
In a universal approach, Silma X4 allows to program any CMM and to simulate several types of measuring cell configurations, with more than 700 CMM models integrated. It is also compatible with several programming types (Native DMIS or MgProg), and all native industrials CAD formats and PMI data are supported.
Save Time in Security with the Silma X4 Path Planning Advanced Module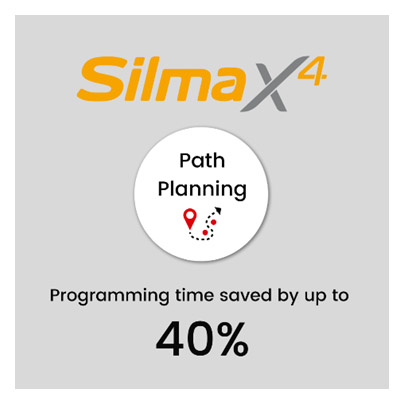 For existing Silma X4 users, the advanced Path Planning module allows the programmer to reduce programming time by up to 40%* compared to traditional offline programming. This additional module is intended to facilitate the programming by optimizing the measurement system trajectory.
For more safety, this module identifies potential collisions (collision free), and autonomously generates an optimized avoidance path to avoid damage on the measuring devices.
Path Planning also provides an automatic probe orientation assistance to ensure the reachability of the different features of the measured part, and manages automatically probe changing when a tool changer is available.
Intelligent measurement process 4.0 with PMI-oriented Path Planning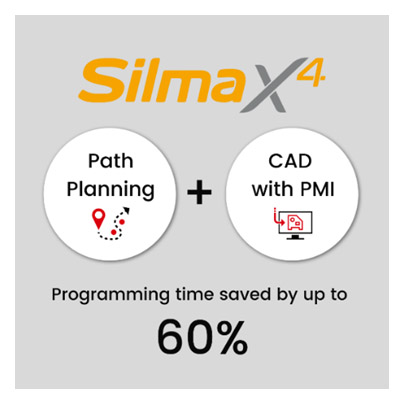 CAD included PMI combined with Path Planning allows to save up to 60% of the total programming time.
Product Manufacturing Information (PMI) avoid any input problems and ensure consistency between the different departments for a fully confident inspection. No more programmer errors or interpretations: Using X4, all the information are extract in one click.
If you want to try this offline simulation solution, contact Metrologic Group for a free demonstration or download the brochure.
*Time studied on automotive industry key players