Many com­pa­nies select the mea­sur­ing device first, with­out wor­ry­ing about the soft­ware solu­tion and its capa­bil­i­ties. Over time, they acquire dif­fer­ent 3D mea­sur­ing machine brands and types, poten­tially cre­at­ing a com­plex soft­ware instal­la­tion on the dif­fer­ent machines.
Why mul­ti­ply the soft­ware solu­tions and recre­ate the same pro­gram on a dif­fer­ent soft­ware for each brand or type of mea­sur­ing device? Why set­tle for any­thing less than a soft­ware that is key to the suc­cess of your prod­ucts and your com­pany: advanced, pow­er­ful, com­pre­hen­sive, scal­able, effi­cient but still easy-​to-​use and com­pat­i­ble with any CAD or equipment?
We have the answer: the most uni­ver­sal 3D inspec­tion soft­ware, able to con­nect directly to over 100 dif­fer­ent types of mea­sur­ing machines and brands, with exten­sive capa­bil­i­ties. We do not con­sider only the mea­sur­ing equip­ment; we con­sider the mea­sur­ing sys­tem as a whole.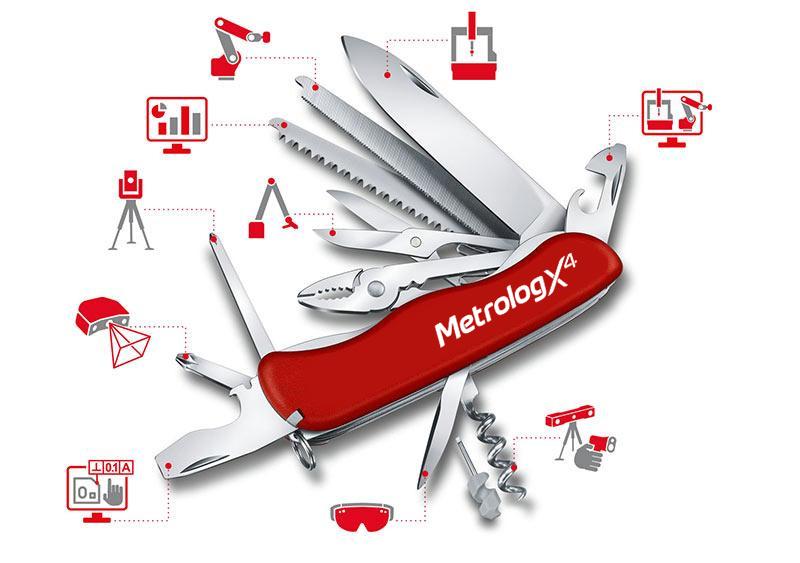 Use the same pro­gram on all your mea­sur­ing devices, inde­pen­dently of brand AND applications.
Our first-​class solu­tion is avail­able as a sim­ple retro­fit or an upgrade for your exist­ing devices, with­out chang­ing any of the hard­ware com­po­nents. It will also work for new devices you may acquire.
Not only you will upgrade the way you per­form 3D metrol­ogy, but also make the most of your inspec­tion analy­sis and report­ing with a poten­tial full inte­gra­tion into your dig­i­tal chain.
In addi­tion, you are also cut­ting cost for staff train­ing. With our uni­ver­sal soft­ware, you are fully com­pat­i­ble with all mea­sur­ing devices and appli­ca­tions, with no need for mul­ti­ple train­ing pro­grams on dif­fer­ent solutions.
Improved through­put, cost-efficiency:
Optimize and reduce acqui­si­tion and work­ing cost of your installation.
Make your mea­sur­ing sys­tems work with­out interruption.
Unique one-​stop-​shop for all your 3D mea­sure­ment needs:
Compatible with all 3D mea­sur­ing devices what­ever the brand.
Adapted to any kind of appli­ca­tion, to all type of parts and mea­sure­ments at all stages of the production.
Proximity: a world­wide net­work of experts with a local response.
Reactivity: ded­i­cated team to answer your demands in the short­est time.
Enhanced pro­duc­tiv­ity, cost optimisation:
Increase pro­duc­tiv­ity and reduce costs.
Improve the coor­di­na­tion between dif­fer­ent stake­hold­ers through­out the value chain.
Easy-​to-​use solu­tions: quick instal­la­tion, fast-​track train­ing, user-​friendly interface.
Robust tools for pro­gram­ming and analy­sis:
Faster mea­sur­ing cycles.
Automation of the whole mea­sure­ment process.
Powerful sta­tis­ti­cal analy­sis pro­vid­ing bet­ter results into man­u­fac­tur­ing control.
Expert back­ground
Present in the 3D metrol­ogy mar­ket for 40 years now, our solu­tions are rec­og­nized, cer­ti­fied 3D inspec­tion soft­ware by PTB and NIST and adopted by lead­ing blue chip com­pa­nies in auto­mo­tive, aero­space, power gen­er­a­tion, watch­mak­ing, and so many more.
Partner back-​up
We are proud to part­ner and share a com­mon vision of enhanced per­for­mance and pro­duc­tiv­ity with key play­ers in 3D metrol­ogy: Hexagon, Creaform, Faro, Nikon, Wenzel, Kreon, Renishaw and more.
Signed agree­ments with major actors in 3D Inspection soft­ware and from PLM (3D mea­sur­ing sys­tem man­u­fac­turer and Dassault Systemes 'Gold Partner').
Scalable solu­tions
Not only our soft­ware solu­tions can meet the chal­lenges of any appli­ca­tion, they are also scal­able, thus pre­pared for future evolution :
Flexible solu­tions: the mod­u­lar con­cept of our 3D inspec­tion soft­ware solu­tion fits per­fectly any appli­ca­tion and can be upgraded to answer future needs.
Always up-​to-​date: a new ver­sion is released every 6 months to allow you to use the lat­est tech­nolo­gies and stan­dards in mea­sur­ing devices.
We con­sider the mea­sure­ment sys­tem as a whole, not only the 3D mea­sur­ing device. We con­sider the park of equip­ment and not only each equip­ment individually.
Example of a machining workshop
Before — Your sce­nario exist­ing configuration:
Important het­ero­ge­neous devices park with dif­fer­ent part types to measure
Several soft­ware solu­tions available
Need for faster mea­sure­ment cycle and optimization
After — Our value-​added proposal:
One-​off accu­rate measurements
Training on sin­gle soft­ware solution
Multi device oper­a­tors team
Unique type of Metrolog/​Silma programs