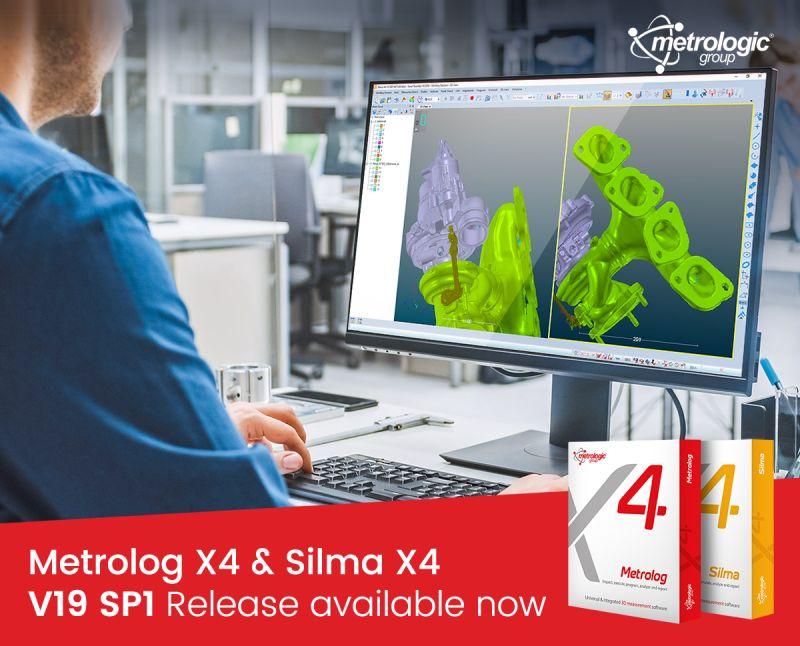 To offer to our customers advanced solutions in the world of 3D metrology, we are constantly improving our software suite: Metrolog X4 and Silma X4.
A 𝗩𝟭𝟵 𝗦𝗣𝟭 update is now available with several new enhancements.
✔️ 𝘾𝙮𝙡𝙞𝙣𝙙𝙚𝙧 1 𝙏𝙧𝙖𝙟𝙚𝙘𝙩𝙤𝙧𝙮
Metrologic is a reference in the sheet metal measurement and our expertise is mainly due to listening the customer needs. We have implemented a new probing strategy for cylinder where the thickness is very small in order to address this specific car body characteristics.
Our customer will now be able to use this new way to improve their productivity by programming this dedicate method and driving their CMM in a robust and flexible part programming.
✔️ 𝙄𝙣𝙨𝙥𝙚𝙘𝙩𝙞𝙤𝙣 𝙋𝙖𝙩𝙝 𝙋𝙡𝙖𝙣𝙣𝙞𝙣𝙜 𝘾𝙈𝙈 𝘼𝙪𝙩𝙤𝙢𝙖𝙩𝙞𝙘 𝙏𝙤𝙤𝙡𝙨 𝙎𝙚𝙡𝙚𝙘𝙩𝙞𝙤𝙣
Thanks to this additional add-on on our path planning module, the user will be help to select intelligently the good tool according to his need. The customer will save time programming and will reduce the possibility to select wrong and inappropriate tools. Once again, our X4 application provide expertise tools to improve our customers' productivity.
✔️ 𝘾𝙤𝙡𝙡𝙞𝙨𝙞𝙤𝙣 𝘿𝙚𝙩𝙚𝙘𝙩𝙞𝙤𝙣/𝙈𝙖𝙣𝙖𝙜𝙚𝙢𝙚𝙣𝙩
Offline programming for mass production is a key. Customers can't validate their part program on the production machine, which is used over 90% of the time. Our Silma X4 product is the answer, and we continue to improve this application to get close to the reality (Digital Twin). The collision engine of Silma X4 in this version can address additional parameters to get a path more adapted and reliable, according to the user expectation and his inspection environment.
✔️ 𝘼𝙏𝙎 𝙀𝙦𝙪𝙖𝙩𝙤𝙧
Our partnership with Renishaw offers us the possibility to direct our universal application Metrolog X4 to address the Equator device. This inspection device is really designed for shopfloor and automatic process request. And we are now able to support and drive EQ-ATS shuttle system.
The EQ-ATS improves consistency and reliability of loading large parts into the working volume of the Equator gauging system, as well as a better access for loading parts to fixture plates outside the working volume.
The EQ-ATS transfers the loaded part from outside the Equator working volume into the working volume for inspection to take place. Once inspected, the part is transferred back outside the working volume, to allow removal / replacement of the part.
And many other new capabilities added to this new release, open the Release notes.
Updated version available now on the download zone on your Metrologic Extranet.