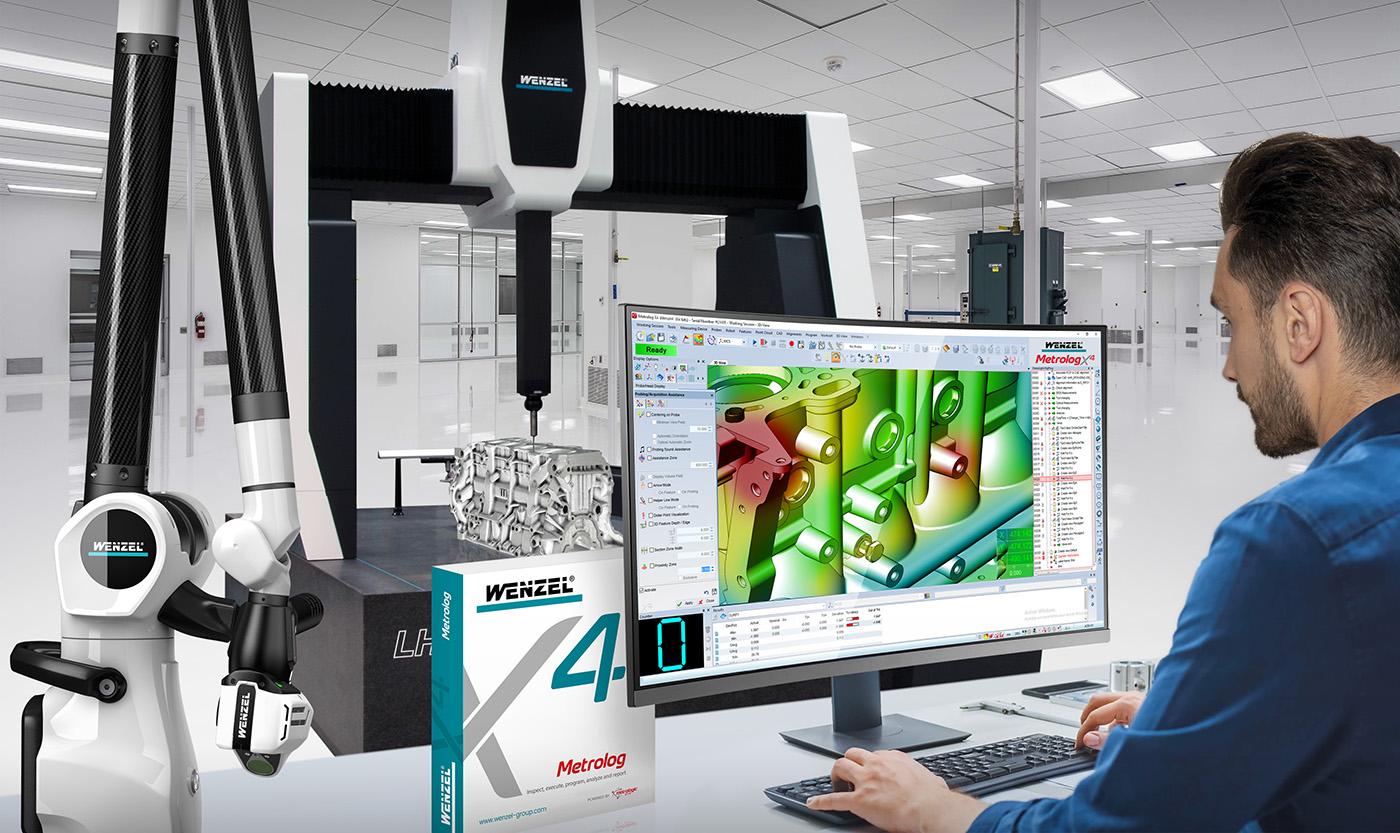 Press Release
Metrologic Group and WENZEL Group announce Strategic Partnership in Inspection Software. A visionary approach to set new 3D control standards.
WENZEL Group proudly announces its close technological and commercial partnership with Metrologic Group. Metrologic Group software solutions are available in a version adapted to WENZEL CMM and Portable Measuring Arms with a focus on universality, performance and point cloud inspection.
The goal of this strategic partnership is to provide WENZEL customers and end users with software solutions suited for WENZEL measuring equipment, based on joint technical expertise with Metrologic Group. WENZEL CMMs and Portable Measuring Arms can now take full advantage of Metrolog X4, Silma X4 as well as the Portable Arm dedicated solution, Metrolog EVO. For WENZEL customers and end-users, this means advanced 3D measurement capabilities, best-in-class point cloud module, robust offline programming & simulation tools, faster measuring cycles and renowned technical support to make the most of their WENZEL measuring system and streamline their 3D inspection process.
Metrologic Group software solutions are optimized for WENZEL machines, so that an excellent integration in between machine, controller and software is taken into account to the benefit of the end-user. Along with delivering new technology integration to the market, WENZEL will gain a competitive edge by supporting:
for CMMs: optical laser scanning, contouring using SP probes, continuous wrist with PHS head, 5-axis measurement with REVO and PH20 together with a full digital twin environment for easy offline programming using Silma X4 for WENZEL.
for Portable Measuring Arms: universality, unrivalled ease-of-use and performance in point cloud acquisition and analysis.
WENZEL customers willing to upgrade their software to Metrolog X4, Silma X4 or Metrolog EVO, will be able to do so using directly a WENZEL controller, WPC, or with the Metrologic Group controller, ME5011. Be it on WENZEL CMMs or Measuring Arms, both classical tactile probes and optical laser line sensors are already supported within the X4 software platform.
The complete solution featuring high-performance WENZEL advanced hardware and Metrologic Group software is available directly together with the measuring equipment from WENZEL Group and WENZEL Network.
"We at WENZEL are very excited about this unique partnership which will definitely give WENZEL customers an advantage as they will benefit from the elite software products from Metrologic Group. Together with our high-quality machines, customers will gain significant benefits when using the entire solution in the measurement room and/or in the production environment", says Dr. Heike WENZEL, CEO of WENZEL Group."
"We are honoured and very enthusiastic about the outcome this powerful combination of WENZEL – Metrologic Group solutions will bring to the market. This collaboration represents a step-change in the way we address the needs of our customers and quality control challenges of Industry 4.0. Partnering with WENZEL Group, will enable us to deliver software solutions built on our mutual expertise in order to offer the market, including our customers, a solution with high technological added value.", states Bertrand GILI, President of Metrologic Group."
About METROLOGIC GROUP
Metrologic Group is a global 3D metrology software frontrunner, specialized in the design and development of industry-leading, high-tech, 3D measurement software solutions, associated electronics and integration services. With offices and distributors throughout the world, Metrologic Group delivers to all industrial blue-chip customers the most universal solution, dedicated to and tailored for all endusers everyday 3D measurement needs and requirements.
Press contact: Marketing Department
marketing [at] metrologic.fr
Phone: +33 (0) 4 76 04 30 30
www.metrologic.group
About WENZEL
The WENZEL Group is one of the global leading manufacturers of metrology solutions; a company that grew on a solid foundation of family, German quality engineering, flexibility and strong partnerships. We are a solution-oriented partner with a focus on innovation in various fields of expertise: Coordinate Metrology, Optical High-Speed Scanning, Computed Tomography. Subsidiaries and agents in more than 50 countries take care of sales and provide after sales service support to our customers. WENZEL Group employs 650 people worldwide.
Press contact: Steffen Hochrein
steffen.hochrein [at] wenzel-group.com
Phone: +49 6020 201-6114
www.wenzel-group.com