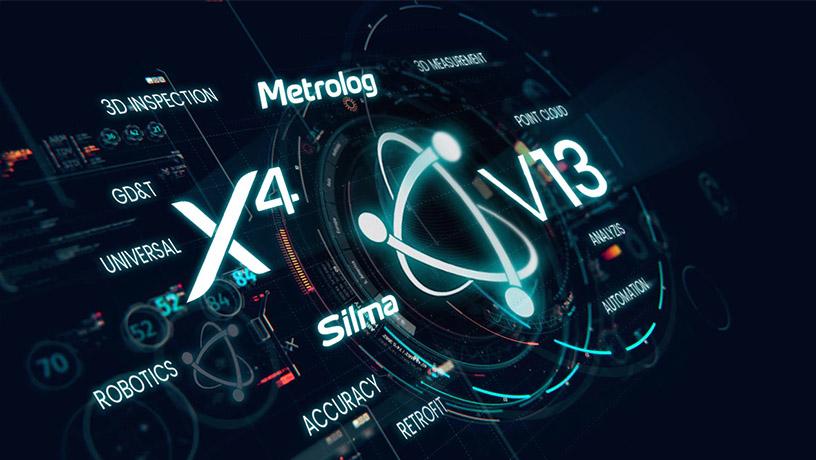 Metrologic Group is pleased to announce the release of its lat­est 3D uni­ver­sal metrol­ogy plat­form, V13. In addi­tion to inte­grat­ing the lat­est tech­nol­ogy avail­able, this new ver­sion con­sol­i­dates our end-​to-​end inspec­tion approach via numer­ous improve­ments: extra ergonom­ics, intel­li­gence in build­ing your 3D mea­sure­ment strat­egy and com­ple­men­tary assis­tance in analysing and under­stand­ing your inspec­tion results.
Silma & Metrolog X4 rep­re­sent a reli­able and com­pre­hen­sive 3D mea­sure­ment soft­ware plat­form that does it all, what­ever the equip­ment, the CAD file or the appli­ca­tion. Built on 4 decades of soft­ware devel­op­ment know-​how, every new release bridges the gap between 3D metrol­ogy mar­ket updates, new tech­nol­ogy released and most impor­tantly, cus­tomer needs.
Top 4 major updates of V13 release and how they can make your 3D mea­sure­ment better:
Renishaw 5‑axis PH 20 and REVO heads are fully sup­ported with Metrolog & Silma X4 (for prob­ing & 3D scan­ning). 5‑axis pro­gram­ming is now pos­si­ble and easy thanks to auto­matic man­age­ment of paths plan­ning and prob­ing posi­tion­ing as per Renishaw data sheet. Specific guid­ing modes like "Guide Rail", "Sweep scan­ning", as well as new graphic manip­u­la­tors are avail­able. As of now, both Silma and Metrolog sim­u­late and exe­cute DMIS pro­grams, even the ones com­ing from dif­fer­ent software.
2D analy­sis mod­ule. A fre­quently requested analy­sis of section/​ pro­file that allows the user to extract 2D char­ac­ter­is­tics and eval­u­ate the distances/​ angles of the selected pro­file. A sharp improve­ment to opti­mize your 3D mea­sure­ment process and effec­tive graphic dis­play for bet­ter under­stand­ing of your mea­sure­ment results.
GD&T engine. Besides a con­tin­u­ous effort over 4 decades to be fully com­pli­ant with ASME and ISO stan­dards, the V13 is pro­vided with a new algo­rithms that make all the dif­fer­ence: enve­lope cri­te­ria, simul­ta­ne­ous ISO eval­u­a­tion, new P mod­i­fier and con­sid­er­able improve­ment of GD&T dis­play for results analyzis.
Point Cloud — Metrolog X4 offers real improve­ments for highly pre­cise 3D opti­cal metrol­ogy and pro­cess­ing most dense point clouds. Extractions and fil­ter­ing algo­rithms have been in con­stant evo­lu­tion in order to deliver sta­bil­ity and con­sis­tency within your 3D con­trol process. Realistic mesh dis­play, mul­ti­ple assis­tance func­tions enable a fast point cloud acqui­si­tion of excep­tional qual­ity. Processing time is also a cru­cial cri­te­ria we take into account dur­ing soft­ware devel­op­ment, to pro­vide you the best user experience.
In a nut­shell, Metrolog and Silma V13 offers more pos­si­bil­i­ties, faster work­flow, smarter fea­tures, more device inter­faces avail­able, all to help you make the most of your 3D qual­ity control.
For more detailed tech­ni­cal data and other V13 updates, please con­nect to the Extranet.