QUALITY FOR THE FUTURE.
MAKE IT BETTER!
The only End-to-End Digital solution for 3D inspection where technicians, metrology experts, quality and manufacturing managers can prepare, program, inspect, analyze results and continuously improve quality control in a seamless and reliable manner.
END-TO-END
3D inspection process
When quality really matters
Our software solutions cover the full 3D inspection workflow-including planning, preparation, programmation, execution, reporting, monitoring and supervision.
Your 3D inspection workflow
Easy steps to enhance your quality assurance.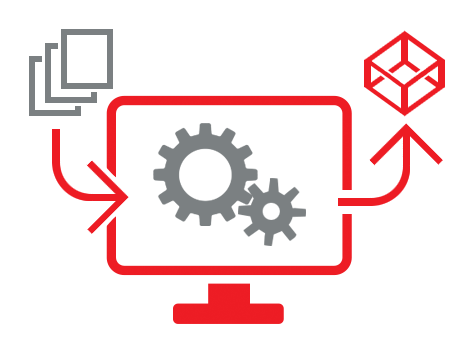 Prepare
Offline Preparation of your measurements process with Planner X4
Identify which features you want to measure
Compute using basic 2D, embedded PMI data or also importing different inspection planning files (proprietary or standard ones like QIFF)
Import any CAD file, any data
Prepare the features to be measured
Prepare View and Report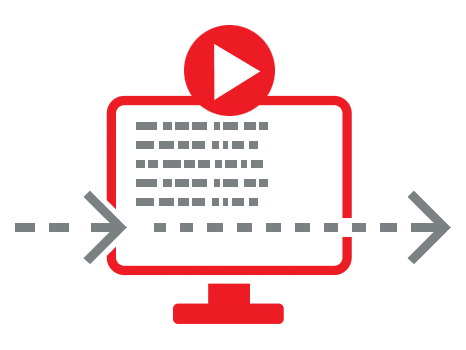 Program
Full automatic program creation:
Automatic Path creation for CMM or robot
Digital Twin environment
Smart offline programming
Collision detection and automatic avoidance
Generate Robot & CMM Paths error- and collision free
Virtual Path Planning: Path optimization module
Available in our proprietary encrypted language or in native DMIS 5.3 standard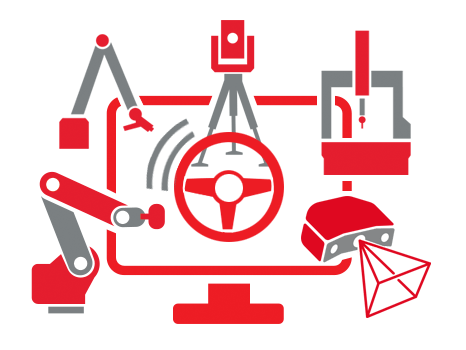 Execute
Direct machine connection (+120 direct interfaces, including ISO I++ Standard)
Accurate Point cloud algorithms
Best-in-class in GDT Analysis with virtual gaging visualization
Large File/Data management using 64 bit data processing
Customizable graphical interface available in 19 languages
Advanced fully customizable report editor with intuitive drag & drop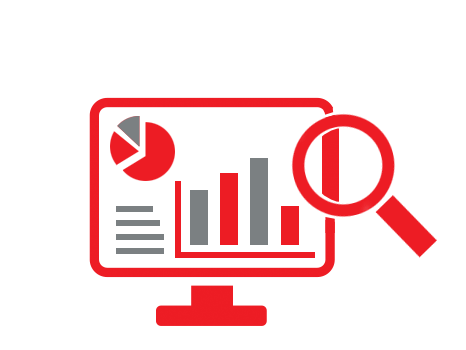 Manage
Digital collaboration tools for manufacturing decision-making or just to simplify your workflow:
Monitor anytime, anywhere and generate process results with i-Supervision
i-Remote allows you to handle quality inspection and dimensional analysis away from your computer.
i-Viewer – Collaborative tool for inspection data sharing
i-Holo – Augmented 3D inspection
Book your demo now!
Contact a Metrolog expert and request your free demo.
Universal & Global Software plateform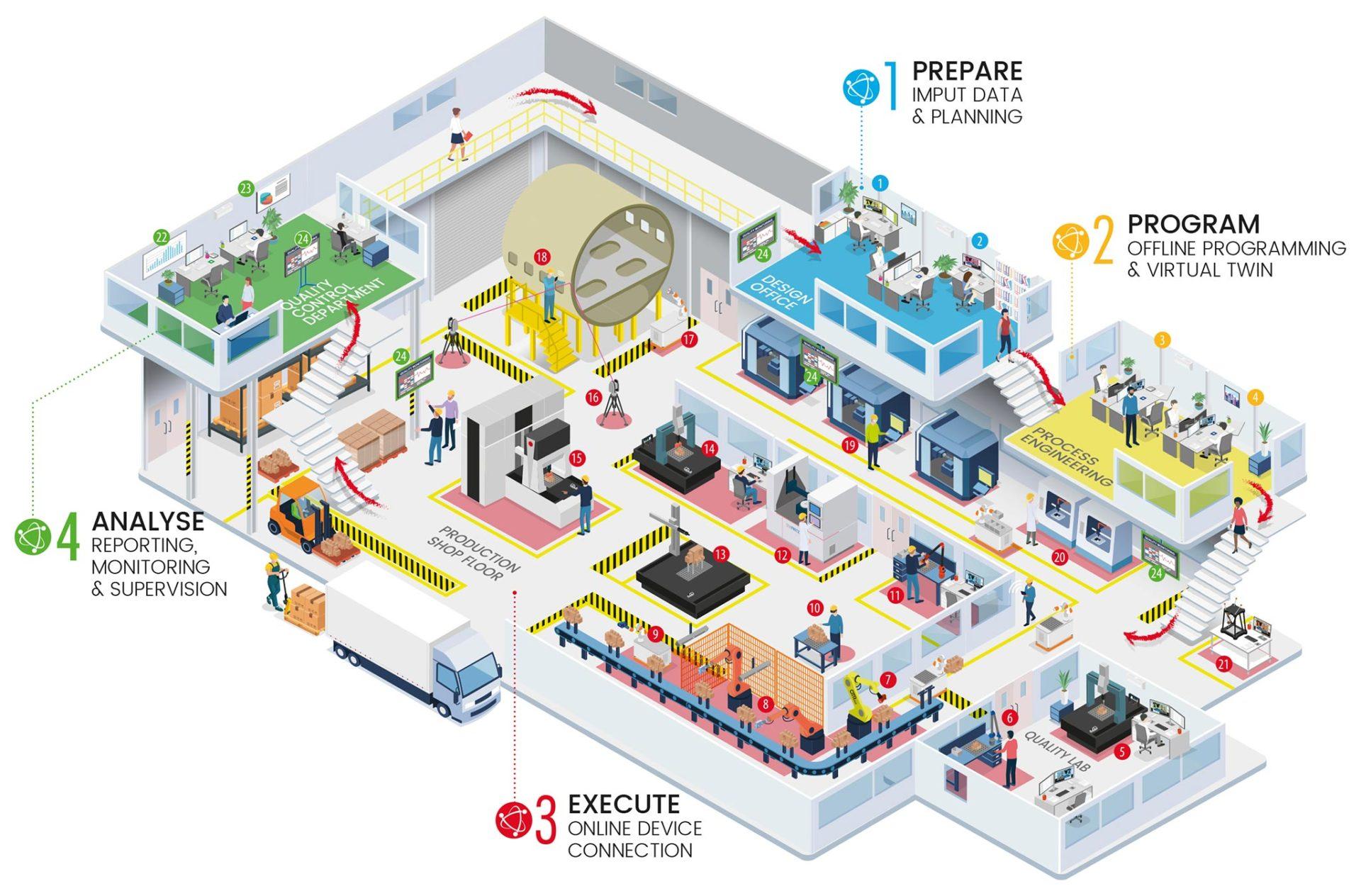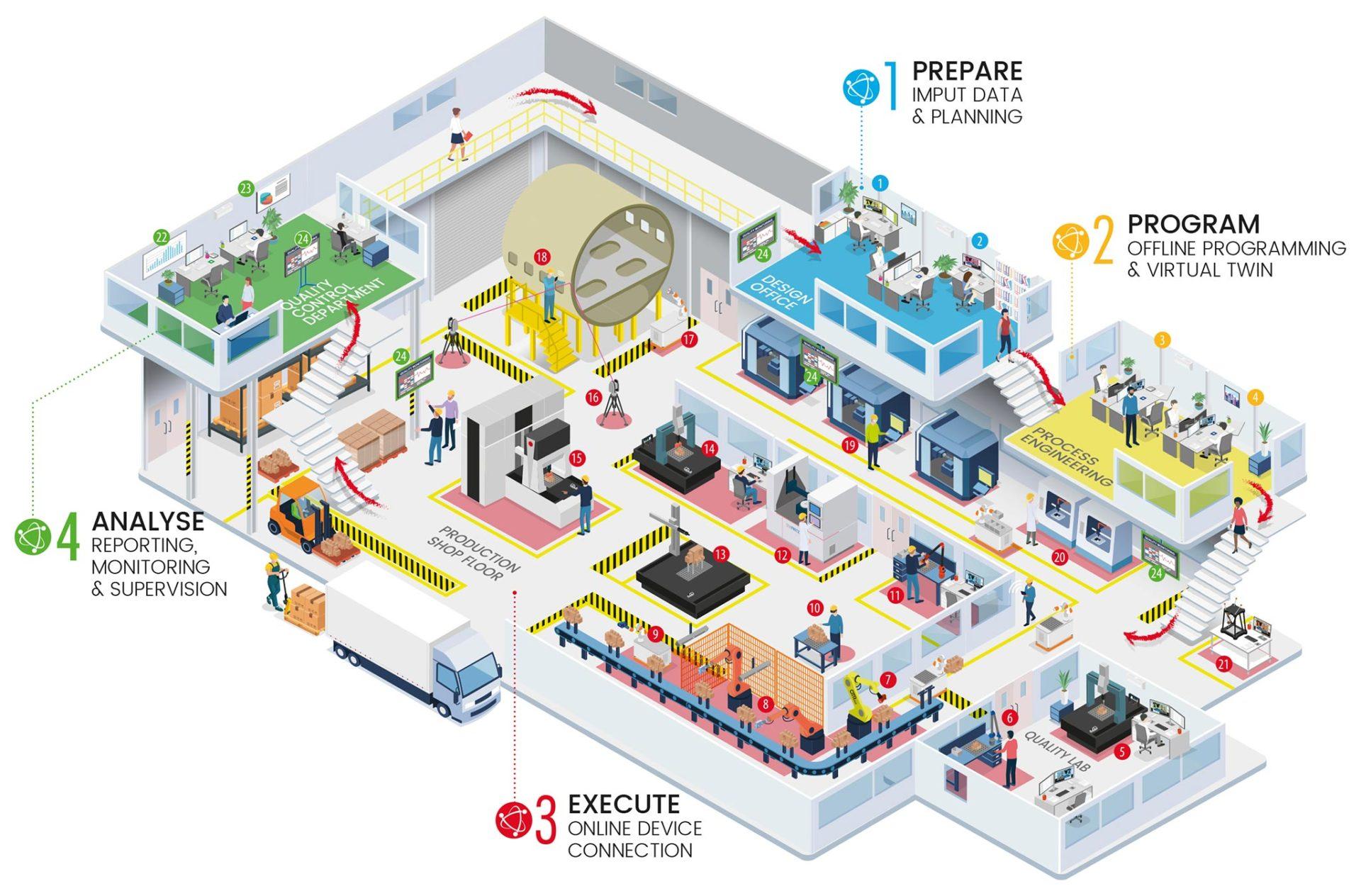 1 – Planner X4 – Preparing, imput data & planning
2 – Metrolog & Silma X4 – Preparing CAD files
3 – Silma X4 – Digital twin, automatic path generation
4 – Silma X4 – Program and simulation
5 – Wenzel CMM – REVO head touch probe inspection
6 – FARO arm for point cloud inspection
7 – CMR Trackless 3D measuring robot – i-Robot
8 – Robot laser scanning for Inline inspection
9 – Kuka KMR mobile inspection solution
10 – i-Holo – Augmented 3D measurement assistance
11 – Kreon arm for point cloud inspection
12 – DW Fritz CMM 3D inspection
13 – Horizontal Arm CMM
14 – Wenzel CMM with optical scanner
15 – Erowa CMM + parts charger – 3D inspection
16 – Hexagon ATS600 – Large scale laser scanning
17 – Kuka KMR mobile inspection solution
18 – Portable scanner for 3D inspection
19 – CNC machining with integrated 3D inspection
20 – 3D metal printing with integrated 3D inspection
21 – Renishaw Equator – Touch inspection
22 – Metrolog X4 – Analyze and reporting
23 – i-Viewer – Collaborative tool for inspection data sharing
24 – i-Supervision/i-Monitor – Centralized live monitoring
Your End-to-End Solution is Ready for the Future
Get the most comprehensive 3D inspection solutions to streamline your process.
Prepare your work
& plan your inspection
Program offline
& simulate your inspection
Measure Online
analyze & report
Follow your process
& monitor your production
Identify the features to be measured and prepare the Inspection feature plan. Compatible with any CAD and any embedded PMI data or inspection planning files.
Create your native 3D inspection part program, in a digital Twin, emulating your real world in a fully simulated world with full real world behaviors.
Speed up inspection times by at least 50% thanks to advanced simulation to validate GD&T and assembly processes.
Connect to your measuring device & execute the program using one of more than 120 direct machine interfaces developed by Metrologic. A universal software solution to cover all your devices, whatever the brand: quick installation, fast-track training, user-friendly interface.
Improve accuracy, collaborate and help support decision making on the factory floor with next-generation data management solutions. Digital collaboration platform that facilitates teamwork & decision making and interconnects all team members that capture or need access to 3D measurement information.