Article by Bertrand Gili, President of Metrologic Group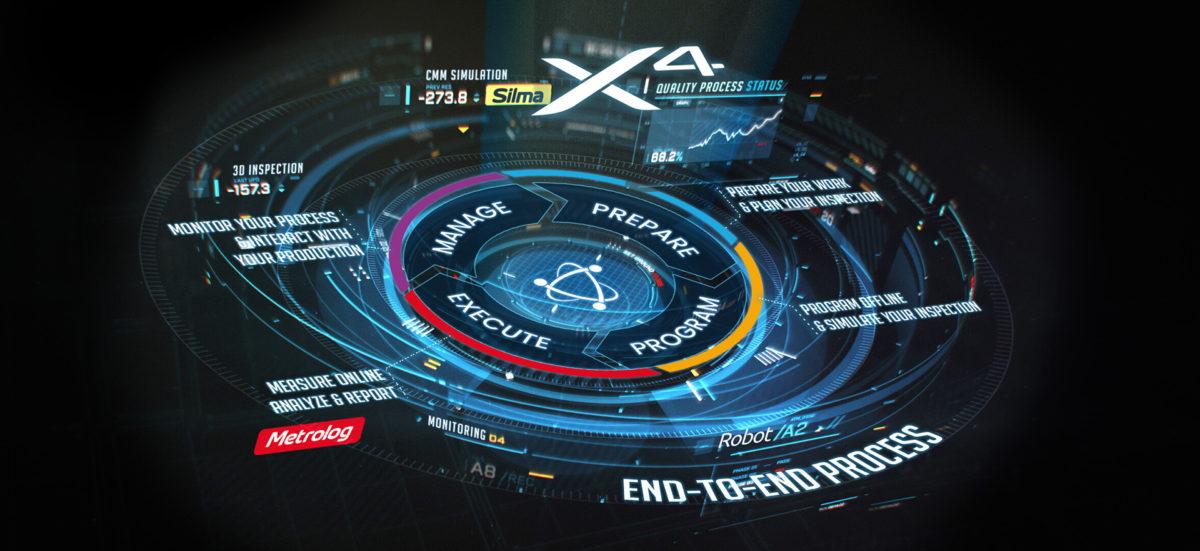 If you only have five min­utes, here's what you need to know about what a com­pre­hen­sive uni­ver­sal 3D metrol­ogy soft­ware plat­form can bring you dur­ing these COVID times.
Forget your morn­ing or after­noon shot of espresso! To get your brain going, I want to serve you up a strong and ultra-​concentrated set of insights on how 3D metrol­ogy pro­fes­sion­als are react­ing to the COVID pan­demic and are already plan­ning for recovery.
Since 3D Metrology can be used to drive pro­duc­tiv­ity, I would like to show you how the End-​to-​End 3D metrol­ogy can help you save money, grow and adapt to these uncer­tain times and their sig­nif­i­cant changes.
We have wit­nessed the world chang­ing in the last few months.
What we and our cus­tomers have learned is that we need to change the way we all work inter­nally and exter­nally. Going for­ward in the post COVID-​19 era will con­tin­u­ously be rede­fined and redesigned.
Staying on top of trends and avail­able tech­nol­ogy solu­tions is para­mount now more than ever; and to man­age this uncer­tainty change and con­tin­u­ous adap­ta­tion to new and evolv­ing mar­ket con­di­tions is a must.
I would there­fore, like to share some thoughts on the way we develop soft­ware solu­tions that resist the test of time and can help indus­try nav­i­gate in these uncer­tain times.
Evolving needs among 3D metrology professionals in the COVID-​19 Recovery
After care­fully observ­ing the evo­lu­tion of the indus­try dur­ing this period, we have noticed the fol­low­ing trends:
Reduced staff on site, some not work­ing and oth­ers par­tially work­ing remotely.
Reduced metrol­ogy work­load as man­u­fac­tur­ing capac­ity decreases.
A need to bet­ter con­trol the over­all metrol­ogy process and asso­ci­ated costs.
Though these trends are closely related, they out­line the need for a com­mon and holis­tic 3D metrol­ogy approach that moves focus from the sim­ple improve­ment of mea­sur­ing equip­ment or soft­ware, to more effi­cient use of all avail­able data what­ever the type at any time as well as from any location.
Tackling changes: adapt & renew. Staying in control whatever the challenge.

Here are proven solu­tions to address the above challenges:
1. Full Digital Twin-based tools that include sim­u­la­tion which can be used to work remotely have shown their value in prepar­ing pro­grams with­out being on site or even hav­ing access to a part or the machine. This allowes seam­less deliv­ery to the pro­duc­tion team, remov­ing the need for urgent and lengthy pro­gram­ming to restart the busi­ness after the recov­ery. This applies to auto­mated solu­tions, such as CMMs or Robots, or laser tracker-​type solu­tions, with the prepa­ra­tion of the set-​up, using a per­fect Digital Twin of the real world behav­ior in a sim­u­lated world and this run­ning on a sim­ple com­puter or even a Virtual Machine installed remotely.
2. The reduc­tion of work­loads in metrol­ogy has led to under-​used mea­sur­ing equip­ment on paper, except that today there is no way of track­ing it. We have ded­i­cated tools to mon­i­tor the mea­sur­ing equip­ment, espe­cially auto­mated cells like Robot or CMM's, but it equally applies to any other type of 3D Metrology equip­ment. The sim­ple aim is to have reli­able data on the actual uti­liza­tion of the equip­ment, allow­ing clear decision-​making about reten­tion or re-​assignment of equip­ment to other departments/​plants. We observed from end-​users that the re-​allocation of the unused devices based on the data from these sim­ple mon­i­tor­ing tools has allowed them to make sig­nif­i­cant sav­ings and react extremely fast.
3. The learn­ings from the cur­rent sit­u­a­tion have also rein­forced the need for more trans­ver­sal tools, capa­ble of opti­miz­ing the 3D mea­sure­ment processes and finally "mak­ing sense of data". As a result, Metrologic Group has strength­ened its devel­op­ment of the global, all-​in-​one, Universal 3D Metrology plat­form, per­fectly inte­grat­ing it into any dig­i­tal work­flow, aim­ing to opti­miz­ing the entire metrol­ogy process.
More specif­i­cally, what can an end-​to-​end solu­tion bring to your com­pany at each step of the qual­ity con­trol process? Put sim­ply, a strong added value to increase pro­duc­tiv­ity, reduce sig­nif­i­cantly scrap rate and help you make the right deci­sions, all from a sin­gle point of advice.
What can End-​to-​End 3D Metrology do for you?
Our inno­v­a­tive end-​to-​end approach will change the face of the indus­try with reduc­ing the total cost of own­er­ship for indus­trial man­u­fac­tur­ers by elim­i­nat­ing metrol­ogy silos, inef­fi­cient work­flow and, in addi­tion to low­er­ing train­ing costs, facil­i­tat­ing greater col­lab­o­ra­tion between teams and plants, ensur­ing con­sis­tency of mea­sure­ment results, and increas­ing work­force mobil­ity. With our End-​to-​End process, you can eas­ily opt for a sin­gle step, sin­gle solu­tion sup­plier, how­ever our mod­u­lar approach also allow you to sim­ply pick a "miss­ing piece" as we can inte­grate with any and all other soft­ware you cur­rently use on your mea­sur­ing devices. The choice there­fore becomes sim­ple based on where we add the most value for you: you can pick indi­vid­ual com­po­nents from our offer­ing or the com­pre­hen­sive solu­tion, depend­ing on your requirements.
As this approach artic­u­lates seam­lessly, I would like to take you through the entire End-​to-​End process, from the ini­tial plan­ning of your 3D mea­sure­ment strat­egy to the full analy­sis of your inspec­tion results and machine mon­i­tor­ing and illus­trate how opti­miz­ing every step of your process is a game-changer.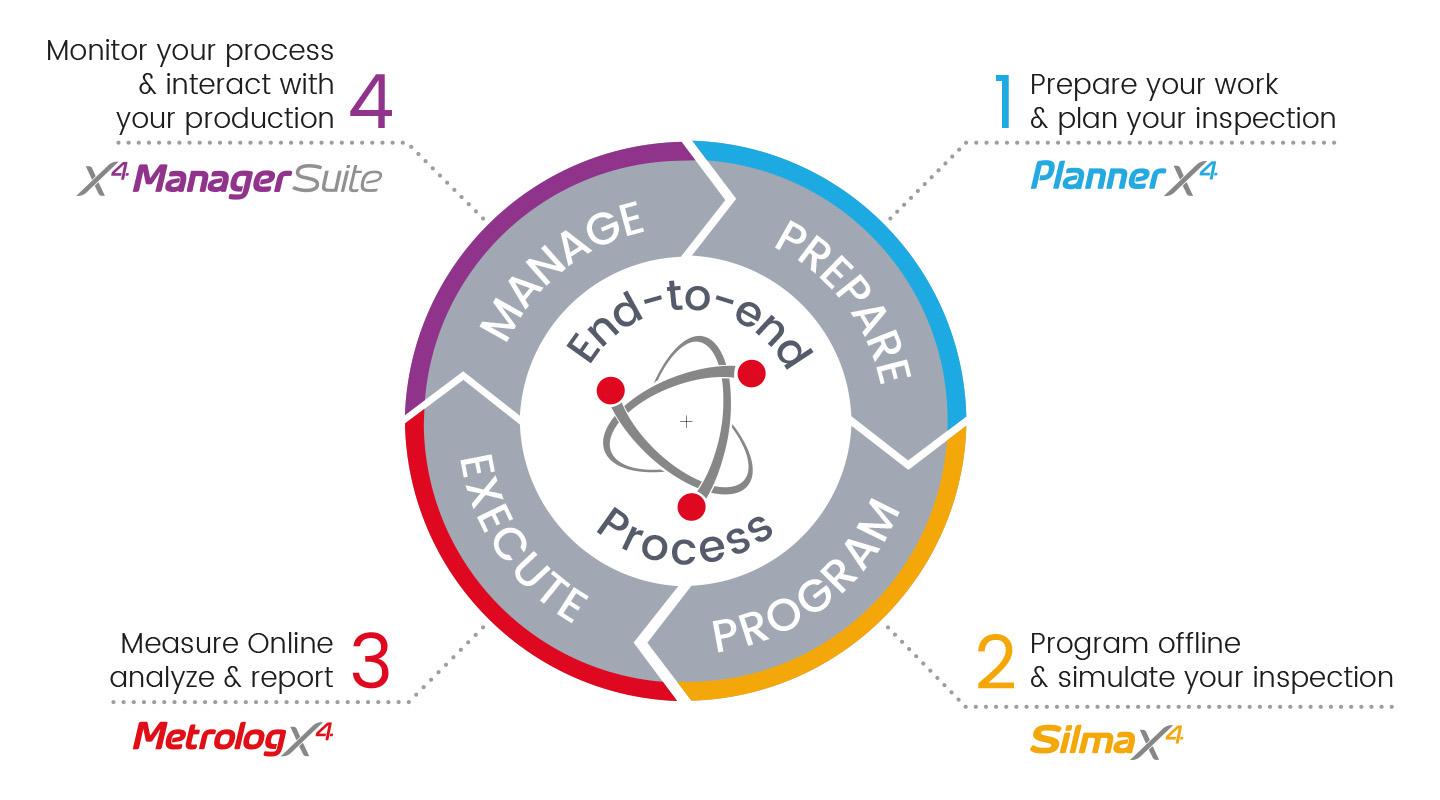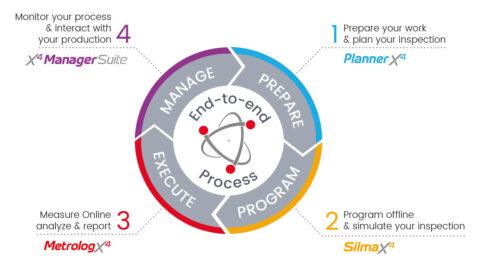 The 3D Metrology End-​to-​End Inspection Process is a 4‑step open and col­lab­o­ra­tive ecosys­tem with a mod­u­lar struc­ture, where you can pick one, sev­eral or all of the puz­zle pieces to boost your over­all qual­ity con­trol process.
Step 1: Prepare: iden­tify which fea­tures you want to mea­sure, com­pute using basic 2D, embed­ded PMI data or also import­ing dif­fer­ent inspec­tion plan­ning files (pro­pri­etary or stan­dard ones like QIFF) to pre­pare the fea­tures to be measured
Step 2: Program: cre­ate your native 3D inspec­tion part pro­gram, in a dig­i­tal Twin, emu­lat­ing your real world in a fully sim­u­lated world with full real world behav­iors. Using our Silma X4 Windows-​based solu­tion, you can choose to cre­ate an easy-​to-​read pro­gram with our pro­pri­etary binary encrypted lan­guage, or you can opt to use Silma native DMIS lan­guage, based on the ISO DMIS 5.3 stan­dard to cre­ate your native and opti­mized DMIS Program, in a text file that can be shared with any software.
Step 3: Execute: con­nect to your mea­sur­ing device & exe­cute the pro­gram using one of more than 120 direct machine inter­faces devel­oped by Metrologic (includ­ing the ISO I++ Standard). By seam­lessly con­nect­ing Metrolog X4 soft­ware to your favorite device, you can drive it, cap­ture the data and per­form the com­plete analy­sis then report, export, and pub­lish the data in any desired for­mat includ­ing SQL data­base with sim­ple connectivity.
Step 4: Manage: we live in a big data world and we have noticed that many cus­tomers do not make the most out of their 3D Metrology gen­er­ated fea­tures. Not only do we pro­vide built-​in dig­i­tal col­lab­o­ra­tion solu­tions, but we also make it pos­si­ble to con­nect your favorite monitoring/​supervision or sta­tis­ti­cal soft­ware to exploit all this gen­er­ated data. You also have the choice to stay in our ecosys­tem and use one of the Metrologic sta­tis­ti­cal process con­trol soft­ware appli­ca­tions if you don't have your own. It's sim­ple, fast and efficient!
Celebrating our 40th anniver­sary, we take real pride at Metrologic Group that we have cre­ated the most ver­sa­tile and uni­ver­sal 3D metrol­ogy soft­ware solu­tion, already used by thou­sands of blue chip cus­tomers world­wide. Today we are very excited to deliver a com­pre­hen­sive yet mod­u­lar soft­ware plat­form to the indus­try, respect­ing of our customer's dig­i­tal flow.
End-​to-​End 3D Inspection stands for an open ecosys­tem where you can sim­ply pick one, sev­eral, or all puz­zle pieces, based upon your exist­ing and future deploy­ment plans, indus­trial needs or sim­ply the appli­ca­tions you already use and are happy to con­nect to one of our com­po­nents. Efficiency can­not be sim­pler and more scal­able than that!
You do not need to replace all of your cur­rent solu­tions, espe­cially if you are happy with them; we sim­ply offer the pos­si­bil­ity of inter­con­nect­ing them, with mod­ules that can opti­mize any step of your 3D metrol­ogy process.
Your CMM New Best Friend
Do you have a Renishaw 5‑axis REVO machine and do you have issues pro­gram­ming it offline?
No need to get rid of Modus — keep it, as your issue is not exe­cu­tion, but pro­gram­ming! Silma sup­ports the ISO DMIS native pro­gram­ming lan­guage and there­fore inter­faces with all native DMIS-​built inspec­tion soft­ware with the full REVO kine­mat­ics and behav­iors and prob­ing strat­egy already built-in.
And this applies to all exis­tent CMM brands on the mar­ket: Hexagon Manufacturing Intelligence, Zeiss Industrial Metrology, Wenzel Group, Renishaw, Mitutoyo, Coord3, Erowa System Solutions, LK Metrology, Stiefelmaier, and many more…
Interested about our End-​to-​End approach or just curi­ous to learn more? Would you like to have an onsite demon­stra­tion using your own data, own machine and part – pick your miss­ing link from our offer­ing! We will show you how easy it can inte­grate with your exist­ing dig­i­tal flow and soft­ware as a part of your indus­trial processes.
Go directly to the End-​to-​End page to dis­cover the added value of the solu­tion and con­tact us for a full test drive.